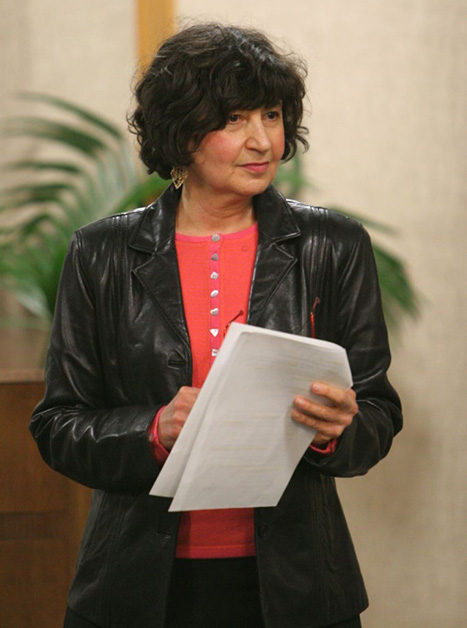 Nothing is more encouraging than listening to an experienced parent like Amalia Starr who is ahead of you on the path, offering practical advice and emotional relief. Starr's breakthrough presentations are relevant, heartfelt, and informative. Her enthusiastic, upbeat personality is contagious. "I love what I do," says Starr, and it is obvious.
Experience Amalia up close and personal in one of her keynote presentations as she mesmerizes audiences with her sheer candor, wisdom, uplifting personality, and firsthand experiences through storytelling.  Some of her stories will make you laugh while others may make you squirm but it is her authenticity and honesty that will win your heart.  She is a bright light always sharing HOPE while addressing the future with positive regard.  She has been recognized as a pioneer and trailblazer blazing the trail for others to follow.  Your attendees will be inspired, informed and filled with hope knowing if they learn how to take care of their children's future now their future can look bright.
Attend one of Starr's authentic, motivating talks and feel your emotions lift and your fatigue disappear. "I am a parent just like you, and I understand your feelings and emotions," says Starr. While in this safe, nurturing environment, you'll be encouraged to relax, let your hair down, ask questions, talk about your specific issues, or just listen and obtain the answers you have been searching for.
Starr walks through these rooms to bring HOPE into the autism arena as she shines a light on the path ahead for parents to help make their journey less fearful and easier to travel. She brings much needed laughter into the room to help heal as the attendees charter new territory together.  Starr calls it is a healing space when we all come together as one.  She helps the attendees to feel more energized and able to move forward with newly found endless possibilities.
Her mission is to help your children crossover to independence: one child at a time.  She accomplishes this goal by offering the parents independence training.  "This is a family effort if we want our children to succeed,"says Starr.
Starr's breakout sessions are discussion based interactive workshops.  She is an authentic and a dynamic gal and encourages her participants to get involved. Tears fall and light bulb moments occur for many and the camaraderie in the room is supportive and contagious.   Starr establishes a safe environment to allow those to share their innermost feelings.  "Where else can they do this?"   says Starr.  Most participants feel a tremendous relief by having a place to be real with others who are experiencing the same emotions and feelings.  In this safe group setting much can get accomplished in a short amount of time and it often does.

Amalia Starr supports parents who have children with autism and special needs through, keynotes, presentations, workshops, seminars, training sessions, and private consultations. Starr's talks are perfect for parents, family members, teachers, health professionals, universities, organizations, counseling centers and support groups working with individuals who have limitations and challenges. Your attendees are sure to feel well informed, deeply inspired, and filled with hope.
Amalia's message is loud and clear that every child be given the opportunity to live the best life possible. That's every parents dream.
Schedule Amalia to speak at your next event!
Download a PDF printable list with descriptions of :
Testimonials – What they're saying:
Amalia delivers a message of hope and inspires families through sharing her journey. She actively engages participants in an open dialogue about fears and dreams for their children. Her passion is palpable and her enthusiasm is contagious. She served as the keynote speaker for our annual Autism Conference and participants shared "I really enjoyed Amalia", "Well spoken, great resource for parents", "Motivating!" and "Amalia Starr was incredible!". Amalia took time after her sessions to speak one-on-one with parents; she made a large conference a truly personal experience for everyone she interacted with!
Amalia is clearly in her element when she eloquently and openly speaks about her experiences and the joy of her life – her son, Brandon. As a presenter, Amalia is engaging from the start- motivating and captivating the audience with each thought she shares. As a mother, she inspires families, educators and professionals alike with her passion. We were remarkably impressed – staff, families, and guests for our annual hallmark event – with the story of Amalia and Brandon's ongoing journey, and look forward to the day that she returns to present and share more of herself with our local community. She related so very to our theme – "hope for tomorrow." That, and so much more, is what you will get from Amalia Starr."
I spoke to you for a while at your table at the FRED Conference. I thought of you this weekend and want you to know how your presentation helped address and confront fears and expectations, both real and imaginary. It is so helpful to hear a fellow survivor, who has been in the trenches longer, pass on wisdom and encouragement that our kids are going to make it! And we are going to make it if we will do all we can and then courageously let go and let our kids grow into all they are meant to be. Thanks Amalia!
You really touched my heart – the hope you spoke of with your son gave me so much hope for my son. Thank you for sharing your life with us at the Autism Camp in Pinedale, Wyoming. Your emotional journey with Brandon is incredible and I felt so connected to what you shared with us.
Amalia, I just wanted to take a moment to say 'thank you' for speaking at the Caregiver Summit ~ we received a lot of positive feedback from our caregivers! Here are just a few of their comments:
-Very helpful, she opened my eyes to all possibilities for my child
-It was great, very inspirational
-Beautiful speaker.
It was a great evening and everyone was inspired by your message. After hearing you speak, I am even more convinced that we chose the best speaker for this event. I have received lots of positive feedback that will hopefully transform into support for ongoing activities in our area.
Amalia has truly helped me and my family stay on track for improving life for my thirty-five-year-old autistic brother. Her inspiration and knowledge has lightened a fire within me for improving his conditions and securing a good future for him and provided me with concrete ideas and tips and solutions on how to reach this goal.
Words cannot fully express the gratitude we have for the sharing of your knowledge and experience with our families and school staff. Our families and school employees have reaped such tremendous rewards from you being with us.